SRE: FROM THEORY TO PRACTICE MINISERIES
What's difficult about incident command?
Featuring Alyson van Hardenberg, Varun Pal, Jake Englund, and Matt Davis
Register to Watch Episode 2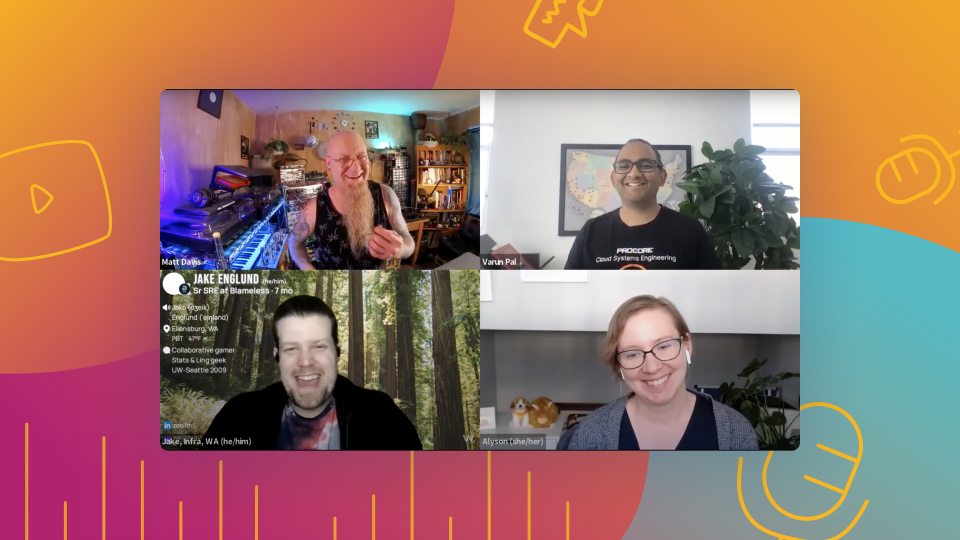 Series Summary
Buckle your seatbelts! We're venturing into the SRE community to chat about reliability engineering. Join us as we dig into SRE day-to-day challenges and how it intersects with other parts of your business. We'll cover topics like What's difficult about on-call? and How do I make sense of reliability data? This is an honest conversation with engineers about how we apply SRE principles. Each episode features community guests. Follow us on Twitter or LinkedIn to know when a new episode drops!
Episode 2: What's difficult about incident command?
In this episode, Alyson van Hardenberg, Engineering Manager at Honeycomb.io, and Varun Pal, Staff SRE at Procore, talk to Matt Davis and Jake Englund from the Blameless team. Find out how their engineering orgs pick an incident commander. What type of technical knowledge should this person have about an incident? And does it take a certain type of personality to excel as incident commander? Register to watch the full conversation!

Matt Davis

Staff Infrastructure Engineer, Blameless
Matt's background covers distributed databases, IT security, site reliability, observability, and techops leadership. He also has a passion for exploring the relationships between the artistic mind and operating distributed software architectures.

Jake Englund

Sr. Site Reliability Engineer, Blameless
Jake has an insatiable curiosity for learning about how complex systems work. Ever since his serendipitous introduction to SRE, Jake has been fascinated by the unique challenges and innovative solutions which come with scaling web services by orders of magnitude. In his spare time, he enjoys video and tabletop games, dancing, and cooking.

Varun Pal

Staff Site Reliability Engineer, Procore
Varun has over 16 years of experience with designing and engineering solutions. Currently he sits on the Cloud Platform Engineering Team at Procore Technologies where he's scaling systems using Kubernetes on AWS. His expertise lies in working with large engineering teams and designing scalable solutions, especially on a global scale.

Get Started With Our Webinar